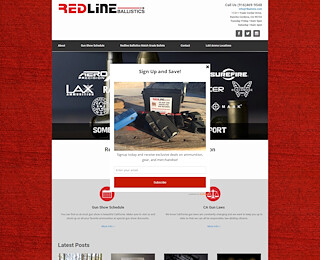 Ammunition is the one thing that you have to continuously buy for your gun, whether you use it for hunting or for home defense. More people than ever are purchasing guns because there are so many threats to ban gun ownership. The right to bear arms was granted to Americans by the US Constitution, and that right still applies today. Owning a gun won't do you much good if you don't have the proper bullets to go with it. Buying ammunition for your gun does not have to be an expensive endeavor when you rely on the professional and affordable services of Redline Ballistics.
Quality Ammunition in Sacramento for Sale with Bulk Prices
At Redline Ballistics, you can expect a high level of customer service and quality customer care. We will do whatever it takes to ensure that you find the ammo that you need at a price that you can actually afford. Our team will happily answer any questions that you may have about the various brand name ammo that we have in our inventory. Speaking of inventory, our selection is second to none because of the vast amount of name brands that we carry. You can expect quality ammunition that is affordably priced. At Redline Ballistics, we offer bulk ammunition prices to the public so that you can enjoy the savings. Bulk prices allow you to get more bang for your buck, so to speak.
Partnering with LAX Ammunition to Present at Gun Shows
Redline Ballistics has chosen to partner with LAX Ammo to bring our quality ammunition to gun shows located throughout the California area. We strive to share our top of the line ammunition with the local area and the entire state so that everyone can enjoy quality ammo. We are making a conscious effort to broaden our customer base so that more people in California can enjoy the ammo that we have to offer. We attend as many gun shows as possible to make our ammunition more accessible to the residents of California. Our staff brings different kinds of calibers and types of ammunition to shows so that we can showcase the top shelf ammo we provide. Our inventory is nothing short of astonishing because of the vast amount of name brands that we support. No matter if you have a handgun or a shotgun, we have the ammo that will meet your needs.
The Best Ammo in Sacramento
If you are looking for the best ammo in Sacramento, you do not have to look any farther than Redline Ballistics. We have years of experience dealing with ammunition and can help you find the perfect bullets for your gun. At Redline Ballistics, we believe our customers deserve nothing except the very best. From gun shows to bulk ammo sales, there is nothing that our team at cannot handle. We have recently released our own brand of ammunition that is ready for you to try. Our Redline Ballistics FMJ Match Grade precision bullets are comparable to top name brands.
Ammo Sacramento
Redline Ballistics
(916)469-9548
11311 Trade Center Drive
Rancho Cordova
CA
95742
View Larger Map