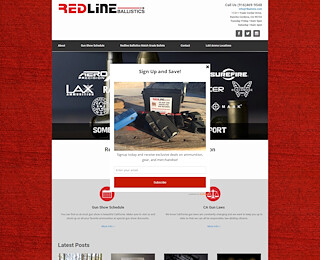 There are many different ammunition stores in Sacramento, which can make finding the perfect one feel as overwhelming as finding a needle in a haystack. It should not be difficult to find a top of the line ammunition store with reasonable prices in the local area. While there are many options to choose from, there is one ammunition store in Sacramento that stands out in the crowd. Redline Ballistics proudly offers a wide inventory of quality ammunition from the latest top brands. Bulk prices on ammunition are offered to the public. At Redline Ballistics, we strive to offer the widest inventory of ammunition to our customers in the Sacramento area.
Top Brands of Ammunition Supported by Redline Ballistics
Our inventory not only includes all kinds of ammo, but it also is full of some of the hottest and most trusted brands of ammunition. We can provide you with the best local prices on top brands like Remington, Winchester, and Federal. We even offer our own line of precision ammunition that will blow you away. Some of the top brands that we support include, but is not limited to, the following:
Benchmade
Sight Mark
Hoppe's 9
VG6 Precision
Surefire
LAX Ammunitions
Aero Precision
Rand CLP
Hex Mag
Winchester
DDT
Remington
Federal
Mace
Blackhawk
Ka-Bar
Leatherman
Pro-Shot Products
Great Deals on Quality Ammunition
Getting a great deal on your favorite ammunition has never been easier than with the help of Redline Ballistics. We provide bulk ammo deals to the public and deals of the week on top items that are popular. We offer our own brand of bullets, which are nothing short of spectacular, called Match Grade. Redline Ballistics Match Grade Precision bullets are made with the highest quality, but offered at the lowest possible price. It is our mission to be a part of as many gun shows in California that we can attend so that we can showcase the brands that we support. Making our ammunition more accessible to California residents is one of our personal goals as a company. At gun shows, customers can stock up on their favorite ammo and take advantage of the specials we offer.
Keeping up with California Gun Laws
At Redline Ballistics, we keep up with the ever changing California gun laws. We are completed licensed and certified with handle and sell quality ammunition. We offer lead free bullets for those who want to hunt game in California. Examples of California gun and ammo laws include ammo being purchased at a shooting range without a background check cannot leave the premises of the shooting range. Anyone who sells more than five hundred rounds in thirty days must get a business license that is issued by California State.
There has never been a better time to reach out to our team at Redline Ballistics to learn more information about the kinds of ammunition that we carry. Our team will be happy to answer any questions you may have about our ammo or California laws regarding gun use and ownership.
Ammunition Stores Sacramento
Redline Ballistics
(916)469-9548
11311 Trade Center Drive
Rancho Cordova
CA
95742
View Larger Map