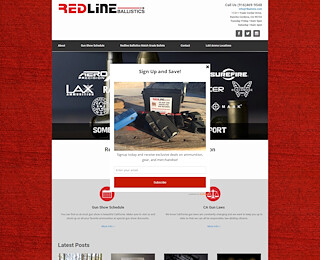 One of the most critical ongoing needs that you have, when you own a firearm, is ammunition. You want to buy ammo in Sacramento that meets your needs and is affordable. At Redline Ballistics, we sell a wide variety of ammo to use in a vast number of gun manufacturers. We have the most abundant supply of ammunition in the country.
What is Match Grade Ammunition?
Match grade ammo is designed to be as precise as possible. You use it when you have long-range targets or when you are taking part in a contest. When you want to buy ammo in Sacramento, consider the use. You want to purchase the right type of ammo for the situation. Although match grade ammo may be more expensive, it offers the best option when you are taking part in specific kinds of events. Precision bullets are more difficult to make, but they offer the best results. When you are concerned with accuracy, you want to buy match grade ammo.
Tips for Buying Ammunition
There are a few tips to follow when you want to buy ammo in Sacramento. Purchase the correct ammo for your firearm. Consider buying ammunition in person so you can view the bullets more clearly. You will be able to get assistance from an expert when you stop by Redline Ballistics. Our team of skilled professionals is available to help you choose the best ammo for your particular purpose. We have a large selection of ammo in stock and available for you to take home. We accept cash payments, so it is easy to purchase the ammo that you need.
What is the Deal of the Week?
Visit our website to view the deal of the week, aptly named the "Best Bang for Your Buck." Our weekly special includes a selection of quality re-manufactured pistol and rifle ammo along with ammo for pistols, rifles, and shotguns from major manufacturers. Sales run from Monday through Saturday every week, and the selection is available while supplies last. Don't worry if you miss the deal of the week. We have a vast array of ammo at incredible prices. We sell ammo for all major gun companies. You are sure to find the ammo that you need when you visit our location. Stop into our shop to find the best prices when you want to buy ammo in Sacramento.
About Redline Ballistics
Redline Ballistics sells high-quality products, and we strive to bring our customers the best ammo at the most reasonable prices. We use American-made materials in our manufacturing process. Although there is a shortage of components, we have affiliates where we can get the materials we need. We sell ammo to individuals and on a wholesale basis to qualified dealers. We continue to add more products to our available ammo. We are happy to assist you in choosing the ammo that best meets your needs and your budget. Stop in today to buy ammo in Sacramento or view our available weekly special online.  
Buy Ammo Sacramento
Redline Ballistics
(916)469-9548
11311 Trade Center Drive
Rancho Cordova
CA
95742
View Larger Map