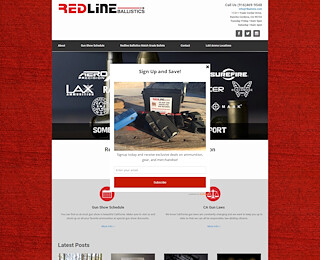 Hunting is an exciting sport that many people in California take part in because of the thrill of the hunt. However, it is important that you follow all of the rules and regulations that have been set forth by the Fish and Game Commission. If you do not follow the regulations, you can expect to be fined large amounts that you easily could have avoided. Since 2015, the Fish and Game Commission has attempted to phase out lead ammunition while hunting game in California. Nowadays, most bullets for hunting that are sold in California do not contain lead. Some bullets, like bullets for handguns used for home protection, still use are made with lead, but they are not often used in hunting situations.
Where to find the Best Sacramento Ammunition
If you are looking for quality ammunition in the Sacramento, you do not have to look any further than Redline Ballistics. We have a wide selection of ammunition to choose from, and we proudly offer bulk prices on ammunition to the public. We participate in gun shows all over California so that we can make our ammo more accessible to the local people. Let us demonstrate our high level of commitment to customer care and service by checking out the wide inventory we have to offer. Not many other ammunition shops can even begin to compete with the high quality ammo that we offer at Redline Ballistics. We love showcasing our ammunition at gun shows around California.
Benefits of buying Sacramento Ammunition in Bulk
There are a lot of benefits associated with buying ammunition for your gun in bulk. If you are a hunter that often goes out on trips, you will be able to bring a stockpile of ammunition with you while you hunt. While you may not need a ton of ammo for a hunt, it is better to have it and not need it than to be stuck without any ammo. If you are a gun collector, it is nice to have ammo available for all of the guns you own. There are a lot of different reasons why people choose to buy ammunition in bulk; mostly because you can save a lot of money on ammunition if you opt to buy it in bulk. Another benefit is that you will not have to constantly shop for ammo when you plan on going out shooting because you will already have a generous amount available.
New Line of Bullets from Redline Ballistics
At Redline Ballistics, we also offer our own unique brand of bullets. Our brand spanking new ammo, known as FMJ Match Grade Precision, have finally arrived and are available to the public. Countless hours of testing prototypes went into the creation of our new line of bullets. Our bullets are custom crafted with the highest levels of quality so you can expect an excellent performance with each and every shot. Without compromising the quality of the bullet, we have made it possible to offer the Redline Ballistics FMJ Match Grade Precision bullets more affordable than other brands.
Redline Ballistics
(916)469-9548
11311 Trade Center Drive
Rancho Cordova
CA
95742
View Larger Map